At Molis Dental we realize that is important to give back to our community and share our many blessings with those in need.
October 26, 2020
Molis Dental – South Holland presents Advent Health Foundation – Pink on Parade with a generous donation to their cause.
Pink on Parade celebrates the brave women in our community battling breast cancer, survivors who have won their fight and those who shine on through their loved ones.
The community has rallied around Pink initiatives for over a decade raising over $900,000 for women battling breast cancer. These dollars have provided hope and healing to hundreds of women through patient assistance, innovative research, diagnostic tests and wellness plans.
Whether you run or walk, wear your pinkest attire and challenge your friends to participate. Running pink feels powerful no matter where we are!
September 19, 2019
Molis Dental supports World Vision — presenting them with a $1,000.00 donation.  World Vision is an international partnership of Christians whose mission is to follow our Lord and Savior Jesus Christ in working with the poor and oppressed to promote human transformation, seek justice, and bear witness to the good news of the Kingdom of God.
August 23, 2018
Molis Dental supports Notre Dame Catholic Charities — presenting them with a $1,000.00 donation.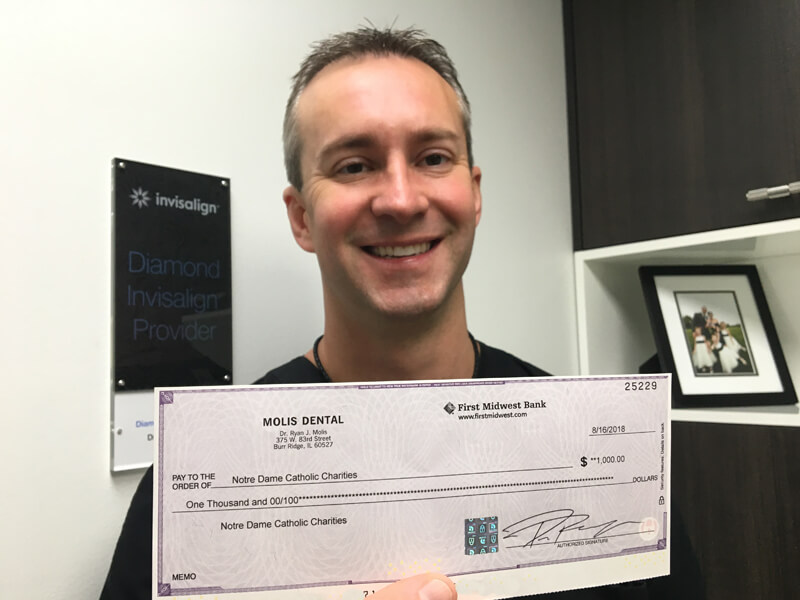 April 10, 2017
Molis Dental supports a nonprofit charity committed to winning the fight against brain tumors — Mary E Smith foundation with a $1,000.00 donation.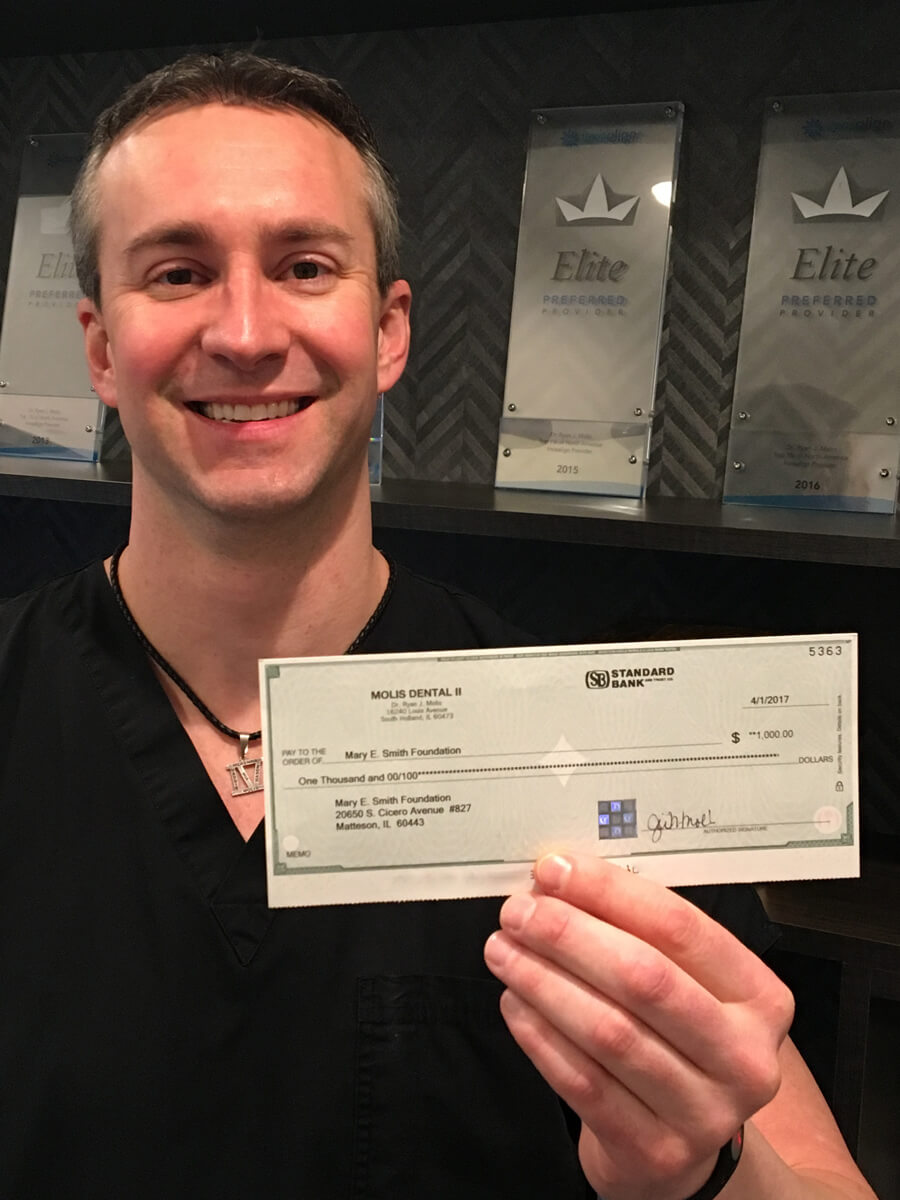 August 29, 2016
Dentist Thanks Veterans With Free Dental Care
Dr. Ryan Molis might seem like a hero to the veterans whose teeth he has fixed for free. But Molis readily admits that his reasons for doing the work aren't entirely philanthropic.
"It's a little selfish, but I like the way it makes me feel to help them," said Molis, who has practiced dentistry for 16 years.
Several years ago Molis met a veteran who needed new dentures. But the Veterans Administration had a nine-month wait. That wait was cut short when Molis finished the work in just three weeks, and at no charge.
Since then Molis has provided free dental work for five veterans, as well as others in need of care but unable to pay. He recalls an 84-year-old patient whose dentures didn't fit properly. She was losing weight because of her inability to eat, but she lacked the money to pay for a new set of teeth…
Click here to view the entire article.
May 27, 2016
Molis Dental continues to fight the good fight with a $1000 donation to "Dancers Against Cancer".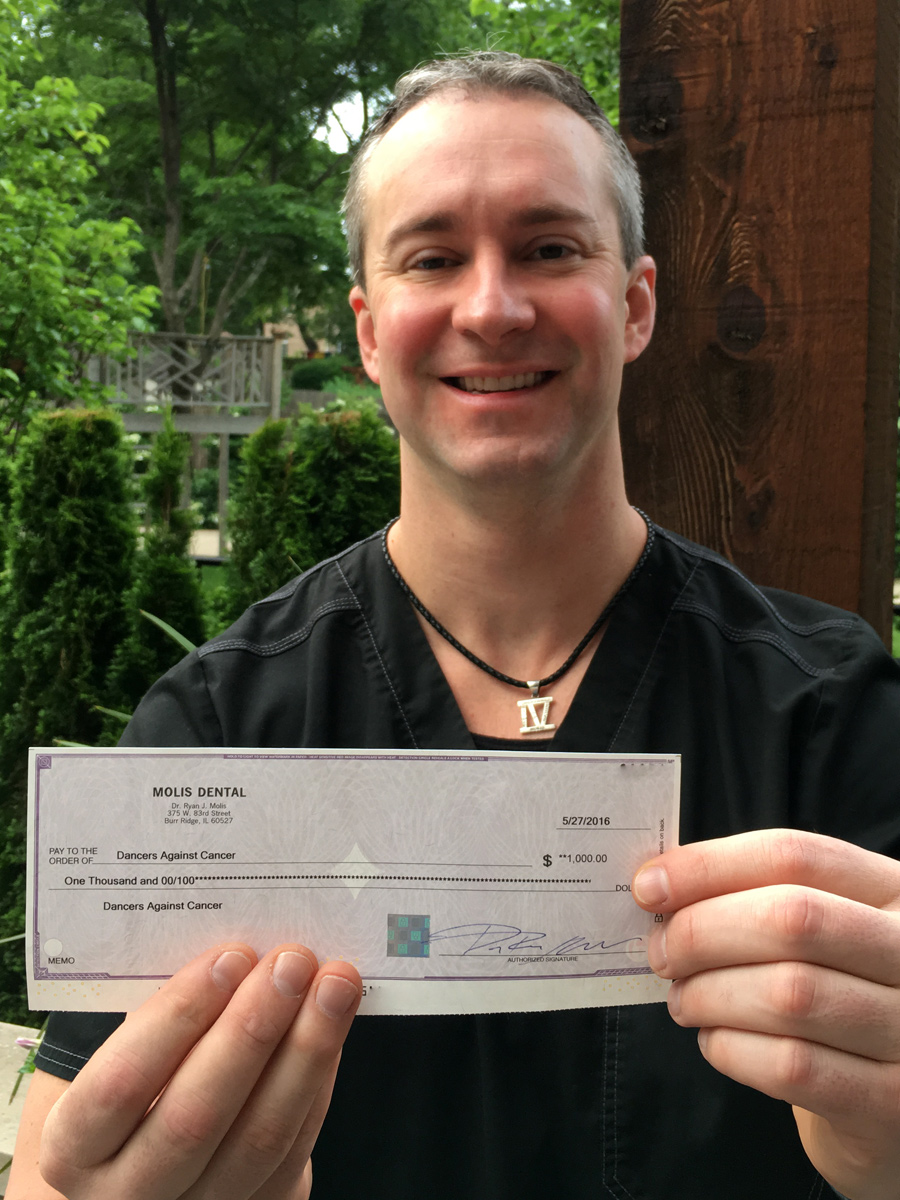 December 15, 2015
The team at Molis Dental are committed to our Veterans and this Holiday Season is no exception.  Dr. Ryan Molis continues to help those who have made America the land of free by donating his time and providing contributions to Veterans.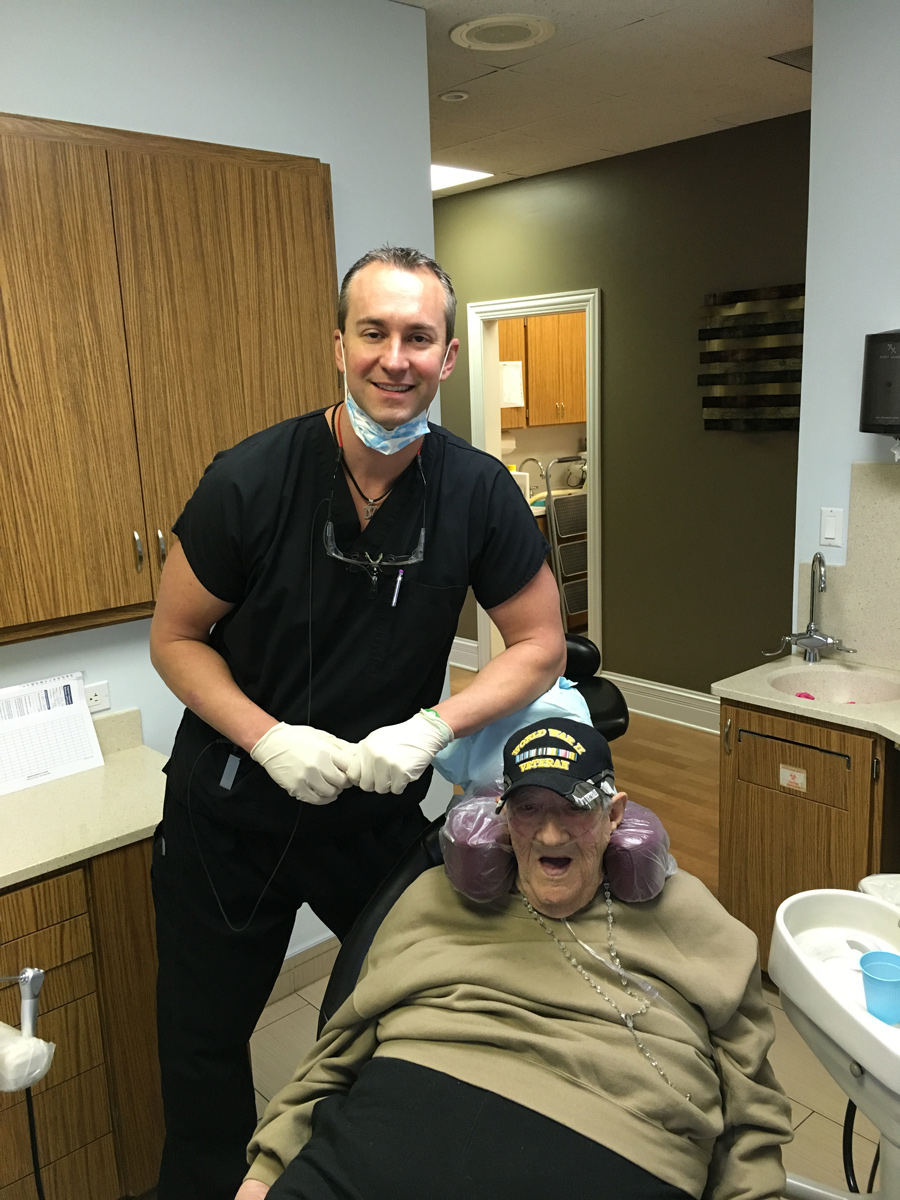 Dr. Molis giving a full mouth restoration to his second World War II veteran for no charge.
Dr. Molis and Renee Murdoch on behalf of Molis Dental presenting a check to Midwest Shelter for Homeless Veterans!